McManus, Kevin
Primary tabs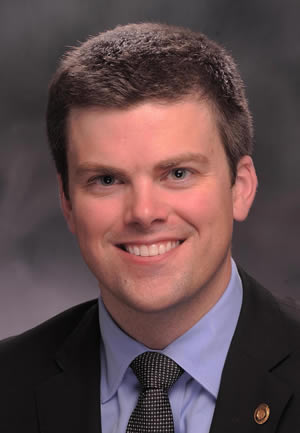 House
Kevin
McManus
DISTRICT36
DEMOCRAT
Representative McManus received an F rating on our scorecard for the 2015 legislative session.
Rep McManus represents a portion of Kansas City in the Missouri House of Representatives. He was first elected to the House in November 2010.
He currently resides in Kansas City with his wife, Alex.
MISSOURI FREEDOM
LEGISLATIVE
SCORECARD
RATING
Heavier Weighted Key Votes in 2015
1.
Voted against House Bill 116 which gives Missouri workers the right to join or not join a union. We supported HB 116.
2.
Voted in favor of House Bill 714 which created a new cell phone and VOIP tax. We opposed this tax increase.
3.
Voted in favor of House Bill 769 which removes government from the doctor and patient relationship. We supported HB 769.
From the 2015 Legislative Session
| | | | |
| --- | --- | --- | --- |
| HB 30 | Photo ID | Y | A |
| HB 104 | Student Freedom of Assn | Y | N |
| HB 110 | Port Facility Tax Credits | N | Y |
| HB 116 | Right-To-Work | Y | N |
| HB 130 | PDMP | N | A |
| HB 150 | Unemployment Compensation | Y | N |
| HB 152 | Prohibit Child Sex Trafficking Advertising | Y | Y |
| HB 207 | Red Light Camera Ban | Y | Y |
| HB 259 | Dairy Insurance Subsidy | N | Y |
| HB 299 | DOR Policy Change Notices | Y | Y |
| HB 430 | Taxpayer Transparency Act | Y | Y |
| HB 634 | Sunshine Act | Y | A |
| HB 684 | Supporting and Strengthening Families | Y | N |
| HB 714 | Cell Phone/VOIP Tax Increase | N | Y |
| HB 722 | Ban the Bag/Minimum Wage Ban | Y | N |
| HB 769 | Direct Primary Care | Y | Y |
| HB 985 | Welfare Verification | Y | Y |
| HCR 4 | Reject Legislative Salary Increase | Y | Y |
| HJR 1 | Photo ID | Y | A |
| HJR 34 | Appropriation Limits | Y | N |
| SB 5 | Municipal Court Reform | Y | Y |
| SB 12 | Farm Omnibus | N | A |
| SB 19 | Corporate Income Allocation | Y | Y |
| SB 93 | Campus Free Expression Act | Y | Y |
| SB 149 | Data Storage Exemptions | N | Y |
| SB 224 | Prohibiting Education Benefits to Illegals | Y | A |
| SB 239 | Tort Reform | Y | N |
| SB 500 | Honey Deregulation | Y | A |
| SCR 29 | Support Medical Device Excise Tax Repeal | Y | N |
MISSOURI FREEDOM
LEGISLATIVE
SCORECARD
RATING